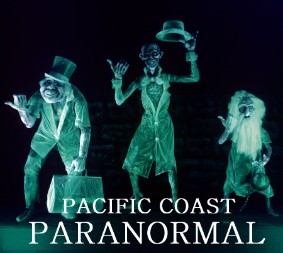 RELATED PARANORMAL PROFESSIONALS
PROFESSIONAL PARANORMAL TEAMS:
BOYLE HEIGHTS PARANORMAL PROJECT
CLAREMONT PARANORMAL TEAM
CPPI (CALIFORNIA PARANORMAL PRIVATE INVESTIGATIONS)
SCSPR (SOUTHERN CALIFORNIA SOCIETY FOR PARANORMAL RESEARCH
VALLEY INVESTIGATORS OF THE PARANORMAL
WEST COAST PARANORMAL - RESEARCH SOCIETY
ALLURE ENTERTAINMENT, LLC - DAVID OMAN
BARCON VIDEO PRODUCTIONS - BARRY A CONRAD
KATANA ENTERTAINMENT - JOHNNY VASQUEZ
M.P.P.T. (MARK PHILLIPS - PHILMS & TELEPHISION) - C.R. SANDERS
SPOOKED TV - CHRISTOPHER SAINT BOOTH, PHILLIP ADRIAN BOOTH
MARK CHRISTOPHER NELSON - POSITIVELY PSYCHIC (RADIO HOST)
MICHAEL & MARTI PARRY - (MESSAGES FROM THE OTHER SIDE)
SANDI GILBERT - SPIRITUAL MEDIUM (CLOSURE & ACCEPTANCE)
TUESDAY MILES - MEDIUM/PSYCHIC
INDEPENDENT PARANORMAL RESEARCHERS:
DAVE HARVEY - RESEARCHER AND INVESTIGATOR
DON STAGGS - PSYCHIC/EMPATH/INVESTIGATOR
GIAN TEMPERILLI - AUTHOR AND RESEARCHER
THOMAS DURANT - DEMONOLOGIST
PARANORMAL EDUCATION AND TRAINING:
PARANORMAL BOOT CAMP - SYD SCHULTZ
REKI BY YVONNE - YVONNE LAMORE
POSITIVELY PSYCHIC (MARK CHRISTOPHER NELSON)
THE GHOST HOST (SOPHIA TEMPERILLI) LIVEPARANORMAL
THE GREEN ROOM (DONN SHY) The Para Publicist, Paranormal Investigator PPRS
THE HAUNTED TRUTH (DOUG M CARNAHAN) "Jackalope Radio Network"
PARANORMAL INTERNET TV SHOWS:
THE PARANORMAL STU (THE STU) - SCOTT GREUNWALD
6IXTH SENSE WITH COLIN FRY - (LIVING TV) 2002
ANCIENT MYSTERIES - (A&E) 1994-98
THE ANTIQUES GHOST SHOW - (LIVING TV) 2003
ARTHUR C CLARKE'S MYSTERIOUS WORLD - (ITV) 1980
ARTHUR C CLARKE'S MYSTERIOUS UNIVERSE - (ITV) 1995
ARTHUR C CLARKE'S STRANGE UNIVERSE - (ITV) 1985
AMERICA'S HAUNTED CASTLES - (TRAVEL CHANNEL) 2005
CELEBRITY GHOST STORIES - (A&E) 2009 - PRESENT
CREEPY CANADA - (N/A) 2002 - 2006
CROSSING OVER WITH JOHN EDWARDS - (SYFY) 1999 - 2004
DEAD FAMOUS - (N/A) 2004 - 2006